Your Feet Are Quite Fetching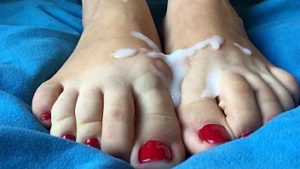 Some men would actually prefer a foot job than actual sex, feet to some men are more appealing than any other woman's body part. Foot jobs and cumming on feet is very sexy to ones into this fetish. Many callers will ask if I've ever given a foot job and of course I have many times, I've had a few different boyfriends that were into sexy feet and foot jobs and it doesn't bother me in the slightest. I love getting foot massages and being treated to nice shoes and boots, and many men into foot jobs love to pamper the feet of the women they are with.
Last weekend I gave my boyfriend a foot job as a treat. I have excellent muscle control on my feet and can actually open doorknobs with my naked feet, well only my right foot, apparently I'm "right footed" as well as right handed, and I often pick things up with my toes as well rather than bend over and get them, so all of this gives me better than average control as to how I can move my feet and toes, and curling those around their dick and squishing their balls brings them a great deal of pleasure.
Cumming on my painted toenails is something many love to do, some that are also into nylons or stockings also take great joy in the sensation of the nylon covered feet on their cocks, and black nylons or pantyhose in particular arouse them as the cum droplets and shots show up much better on the black hose than on the tan ones. Working the feet over their stiff dicks or having them cup their hands over my feet as they fuck them is a wonderful way to make someone cum if they enjoy that. They are free to lick and suck my toes to their hearts content.