Two Holes Are Better Than One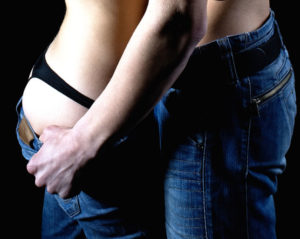 A caller was asking me the other night if I'd ever had anal sex and I replied of course, many times, it was one of my favourite types of sex and I loved it. He asked if a woman can cum from that and I said yes, especially if they are rubbing clit at the same time or their partner is, it's quite common to be able to cum then and of course when she cums, even though the guy's cock is in her ass rather than in her pussy, he will be able to feel the contractions on his cock.
He has been trying to convince his girlfriend to try it to no avail, he got a Fleshlight toy that has an ass shaped insert and he's been using that and enjoying it and watching lots of porn with anal in it. I told him just to make him throb, I'd had anal sex only a couple of nights before and I told him how my boyfriend had me on all fours, and he generously lubed up his cock and eased it into me, popping in the head of it and then slowly easing it inside of my tight ass.
He grabbed my tits and rubbed my nipples with his thumbs and was pumping his dick in and out of my juicy ass. I was moaning as I teased my clit with my fingers and he was breathing so fast and hard and I could feel his full balls slapping against me with every thrust and it wasn't long until I made myself cum with my fingers and that triggered him to cum inside of me and I had droplets of cum dripping out of my ass. The caller was beating off his dick the entire time I was describing the sexual encounter to him and he soon came. I was happy that my relating it to him was enough to get him off. I hope his girlfriend lets him try anal sex soon, it's a lot of fun!