Pamper My Feet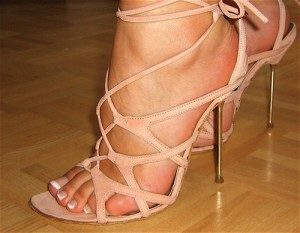 My newest boyfriend worships my feet. He loves the feet of most women. He said summertime is like Christmas for him, since many women are in sandals and flip flops and that display of feet and toes all around drives him crazy. He said it's as good as a nude beach for him. He's gone home from the beach many times and masturbated like a fiend thinking of the feet he saw and imagining getting foot job from them. When some beachgoers were in the water and away from their beach towels and items, he's actually gone over and sniffed some of their sandals.
Not sure why he told me that, that was a bit extreme, but I think he just wanted to impress upon me how much he's turned on by feet. I've never had so many foot massages in my life, and I'm certainly not complaining, I adore getting them. I've always kept my feet done up nicely and painted and he loves to shower my feet with kisses and he likes to suck on my toes. It feels kind of tickly, but I don't mind, and it makes him happy, so I let him. He rewards me with new, designer shoes and long, slow foot massages.
He asked when we met if I'd ever given a foot job and I'd tried once a few years ago to another boyfriend that was quite wild about my feet. It was a bit awkward, since you just don't have the same dexterity on your feet and toes that you do with your hands, but I tried as best I could. He walked me through it and told me just how best to move my feet and toes up and down and around his cock to give him the maximum pleasure, and after doing it several times now, I more than have the hang of it and he really enjoys me using my feet on him.